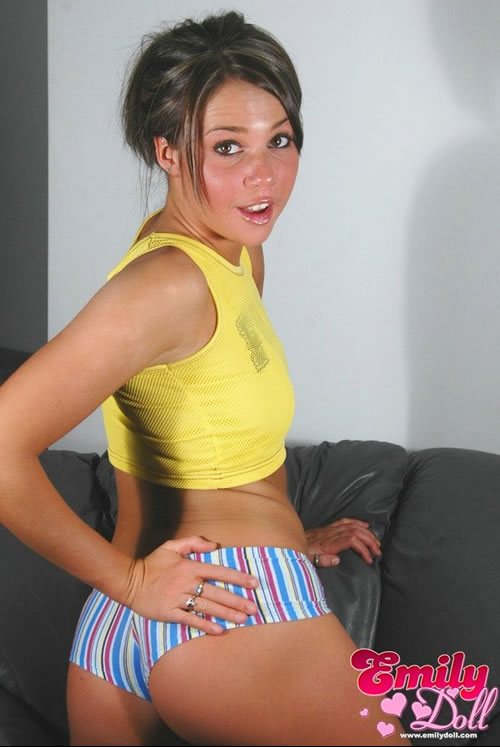 "Doing nude pictures for my site always turns me on but I was feeling really horny even before we started. As soon as the camera started taking pictures, I got up on the couch and turned around so that we could get some shots of my ass – how's that for a cheeky picture? After having some fun that way, I turned around and pulled up my shirt to show off my titties. I was feeling really playful and kept pulling at my panties. I'd start to pull them down then stop, then start again. Of course you know I'm going to follow through but its sometimes fun to make you wait for it 😉 Because I love all my members so much, I finally pulled them off and sat back on the couch with my legs spread. I even spread my pussy lips apart so you could get a real good peek of my shaved pussy. See, don't I always come through?" – Emily Doll
———————————————————————–
Emily Doll is no tease, she peels off her yellow tank top and her tight boy shorts. Emily shows off her cute perky tits, round tight ass and spreads her pussy just for fun. Emily is great jerking material when you need to get some nut out. High grade spank material. Here is Emily Doll naked with her friend Baily.
CLICK HERE FOR MORE PHOTOS AND VIDEOS OF EMILY DOLL.